Description
Activity Tracker with 1+ Year Battery Life 
Features always-on customisable colour display and 1+ year battery life¹; no charging necessary
Tracks steps, distance and calories burned, monitors sleep and provides a personalised daily step goal²
Safe for swimming and showering³
Periodically syncs to Garmin Connect™, where you can save, plan and share your activities, get involved in social challenges and more
Garmin Move IQ® feature automatically detects activity and classifies activity type on Garmin Connect
Find more ways to beat yesterday with easy-to-use vívofit 4. It brings you activity tracking and the freedom to keep moving without taking a break to recharge. With its 1+ year battery life, vívofit 4 is perfect to wear 24/7, so you're always tracking your activity, automatically classifying it with Move IQ and so much more.
24/7 Wearable
The vívofit 4 activity tracker follows your progress 24/7 and lets you ditch the charging cord, thanks to its 1+ year battery life. It's also safe for the pool or the shower, and its always-on colour display is bright and easy to see, even in the sunlight. Let your personality shine through by customizing the screen with colour themes, watch faces and text phrases or by swapping out the band for a different one. Accessory bands are available in various colours and styles.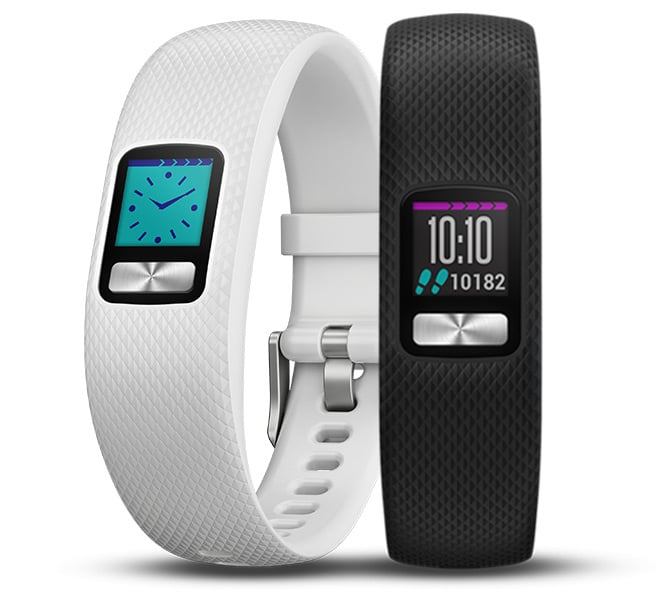 Convenience on Your Wrist
With vívofit 4, we're bringing you several new tools designed to make life a little more convenient. Use the weather widget for a quick, illustrated look at what the day is going to bring4. Set an alarm in the app that will go off on your device, or even set a countdown timer right from your wrist to remind you when it's time to turn off the oven. Misplaced your phone? vívofit 4 can help you with that, too.
Get Moving, the Easy Way
No need to manually start and stop your activity timer — Move IQ has you covered. It can automatically capture and classify different activities such as walking, running, biking, swimming and using an elliptical. For walks and runs, it can even start an activity timer automatically. Review the captured data later on Garmin Connect.
Personalised Activity Tracking Plus Motivation
vívofit 4 inspires you to get up and move. In addition to tracking steps, distance, calories burned and sleep, it also tracks periods of inactivity. A coloured move bar fills up to alert you if you've been stationary for too long. Reset it by walking for a couple of minutes. vívofit 4 even learns your current activity level then assigns an attainable daily step goal. As you meet your milestones, it will adjust your goal for the next day, gradually nudging you toward a healthier lifestyle.
Share and Compete
Throughout your day, vívofit 4 periodically syncs to Garmin Connect2. The Garmin Connect™ app makes it easier than ever to beat yesterday. Bold, colorful activity cards provide all your statistics at a glance. Scroll down to easily compare today's totals to past results, or tap in for more detailed information. Activities and other health measurements recorded by your device are presented in vivid detail. And the data you see is customised just for you and the way you move, without all the filler.
Step Challenges with Your Kids
Use the Toe-to-Toe™ feature to challenge your kids to a step competition. Your vívofit 4 activity tracker can wirelessly connect to your child's nearby vívofit jr. 2  or even another vívofit 4 to kick off an instant timed step competition. It's all controlled right from the wrist, and once the competition is over, you'll both see the total number of steps during the one-on-one challenge and find out who triumphed.

¹Under typical use; battery life may vary depending on usage
²Activity tracking accuracy
³Water rating
Shipping Charges
All charges are in New Zealand Dollars.
New Zealand
$8.99 standard shipping on all New Zealand orders under $95
Free NZ shipping on orders over $95, excluding certain oversized or heavy items, and today's hot deal
A shipping charge of up to $85 (North Island) or up to $95 (South Island) applies to each oversized or heavy item
A $5 surcharge applies to all NZ rural or PO Box/Private Bag addresses
A $10 surcharge applies to Chatham Islands and Waiheke Island addresses
We cannot ship oversized or heavy items to Chatham Islands
International
$34.99 shipping on all Australian orders
Shipping charges to other international destinations range between $37.99 and $49.99
We cannot ship oversized or heavy items internationally
Shipping Times
We aim to process and dispatch your order as fast as possible. While in most cases this will happen within 24-72 hours, it can take up to 5 business days, depending on what is ordered. In some cases, like during peak season and holiday periods, it may take longer. Shipping and processing times are a guide only, not a guarantee.
An order containing multiple items with different shipping times will by default ship on the timeframe of the slowest item, however, Gearshop reserves the right to split ship orders where we feel it is required.
After dispatch, delivery is normally overnight within the South Island and 1-3 business days within the North Island. Rural addresses could take up to an additional 2-4 business days. At this time, we do not offer urgent delivery as a standard freight option, however if you require your order urgently, please contact us before ordering to ensure that we can meet your delivery timeframe. We aim to deliver your order within the following timeframes:
New Zealand
North Island: 3-7 business days
North Island rural or PO Box/Private Bag: 3-7 business days
Waiheke Island: 4-8 business days
South Island: 2-6 business days
South Island rural or PO Box/Private Bag: 2-6 business days
Chatham Islands: 7-10 business days
Oversized or heavy items: 5-7 business days to all NZ addresses (excluding Chatham islands)
International
Australia: 7–10 business days (metropolitan areas only).
Canada: 10 business days
Hong Kong: 10 business days
UK/Ireland: 10 business days
USA: 10 business days
Every now and then, life throws a curveball and deliveries might take a little longer. We're doing our best to get your goods to you ASAP. If you've got any questions about your order, just give us a shout.
We're actually pretty speedy most of the time. After dispatch, around 92% of our orders zoom out the door within 5 days. In the South Island 79% of those arrive in 2 days. And for the North Island 85% of orders make it in 5 days.  We're always keeping a watchful eye on freight times to ensure the best experience for our customers. Watch this space for our full freight review.
Usually, your stuff should reach you within the expected time. However, no need to stress if it takes a little longer than 5 days, occasionally things don't go exactly to plan. If you need something super soon and it's less than 6 days before your desired delivery date, just chat with us before ordering.
Keep in mind, we can't give refunds for delays beyond our control or if you've ordered last-minute without letting us know. We're all about making things smooth, so drop us a line if you're unsure.
Kindly note that if a package happens to go missing, Gearshop won't be able to offer a replacement or refund if the courier can provide evidence of delivery.
For the latest updates on the Courier Network Status, please refer to the following links:
Click & Collect
We now offer Click & Collect as an option via our website, you can place your order and select to collect. In some cases your order may be available the same or next day, but that may not always be the case, so we will notify you by text message or email where possible, when your order is ready to be collected. this could be up to 48 hours after ordering. So try and include a cell phone number with your order. If you need something urgently, give us a call or email before placing the order, to make sure we have it available for you right away.
Payment & Security
Your payment information is processed securely. We do not store credit card details nor have access to your credit card information.
Customers who bought this also bought…